MAINTAINING A PLEASANT NEIGHBORHOOD
Parking and Gate Information
We all want to enjoy a pleasant and comfortable life in our Sanctuary. The best way to accomplish this is for all of us to treat each other with respect and courtesy.
PARKING POLICIES
One area is of specific concern: Parking. The Sanctuary at Bay Hill has a limited amount of parking space, and each resident needs to be conscious of using a proper amount of the parking spaces. This will ensure fair sharing of space and allow for safe traffic flow through the neighborhood.
Meeting Regarding Parking
A meeting was held on August 22, 2019 to discuss these issues, and explain our policies. For those who couldn't attend this meeting where it was discussed, here'e a recap. (You can hear the meeting for yourself below.)
We have had a lot of questions and suggestions to our current Parking rules and we wanted to thank you for your input and advise you of some things we have changed based on your feedback and also Reaffirm things that WILL NOT change and will be towed moving forward.
SEPTEMBER 1 the towing company will start removing cars (at owner's expense), if they are violating any of our parking rules:
They are as follows:
A Resident's Vehicle(s)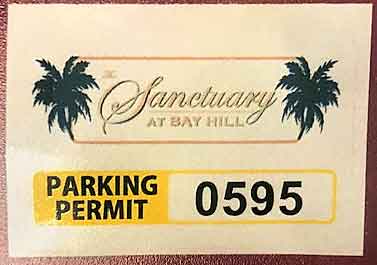 If you have a sticker that looks like the one on the left, YOU CAN'T be parked in a guest spot ever, unless you have a special issues like roof repair or a contractor over in your driveway, but that requires you to get a special pass from the office BEFORE you move your car into a guest spot. If you have misplaced your green hang tag please email us for a duplicate.
Your garage and driveway are the only places that you can park a resident car, and every unit gets 2 stickers. If your garage is being used for storage then you only have 1 parking spot, and if you have 2 cars you either need to remove your storage items (to a storage facility etc.) or move a car off property. If you can accommodate two cars in your driveway then they must be in your driveway and not over hanging in the road.
If you get a new car, you must return the sticker (it will be in pieces ) before another is issued. It is important to ensure that we have the current information on your vehicles and tags to ensure that you are registered properly, otherwise you will be towed.
Guest Vehicles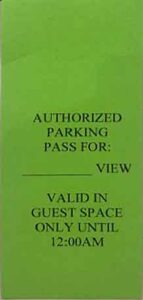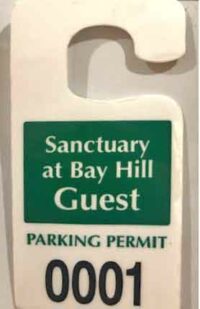 You were provided a green hanging tag, like the one on the left, for any visitor that is here for a temporary time (from 8 am – 12 Midnight), that you will give your guest to parking a guest parking space.
If you have a guest and you don't have the proper tag (i.e. green hanging tag or overnight tag, on right) they will be towed.
If you guest is staying over night, you will need to fill out the form (LINK BELOW), and submit it to the office. Or after hours, print out the completed form (it will have been emailed back to you) and give it to our Parking enforcement officer) An overnight pass (like the one on the right) will then be issued. Please keep in mind this is for guests only, not a "third" vehicle.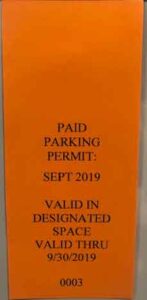 Parking Spaces for Rent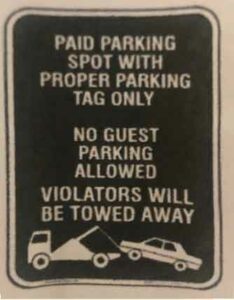 We also are going to rent spaces for unique situations. This will be a monthly rent (not daily, weekly etc.) and the cost will be $50.00. There will be a total of only 25 spaces, with tags like on the left. There will be a special black sign (like the one on the right) that designates they are paid spots. They will be available on a first-come, first-served basis, and you will need the complete vehicle information to register the car for that type of pass. (LINK BELOW) It can't be used for any other vehicle other than the one that it was assigned to. And only one paid space per unit will be issued. No exceptions. The paid spots will be spread out throughout the property and will also have a special tag that is color coded and is only valid for the month issued.
Parking by the office
If you are in the gym or in the clubhouse /office or at the pool, etc., the parking spaces by the office are available for a short term only, either while you use the pool or fitness center, tennis court, or are in the office conducting business. If your car is parked there and you are not utilizing these amenities, and you don't have the proper tag/permit you will be towed.
Keep in mind:
Street parking is an automatic tow – no notice, no sticker, no more warnings.
Rules and Regulations
If you need a copy, CLICK HERE to download them. Pay attention to Section 5 for Vehicle Parking guidelines.
Meeting Audio Recording
For those who wish to hear the meeting recording, you can click below.
FORMS YOU MIGHT NEED
Vehicle Registration
Use this form to register your car(s) the first time, or if you get a NEW car.
Guest Parking
Use this form for a guest who is staying over night (ONE NIGHT ONLY).
Paid Parking Rental
Use this form to request a PAID Parking spot, good for ONE MONTH MAXIMUM.
Gate Entry Code
Use this form to request a Gate Entry Code.
All entries may take up to 48 hours to process.
Only one directory code per address.
Once a directory code is set, it is $25.00 charge to change it .